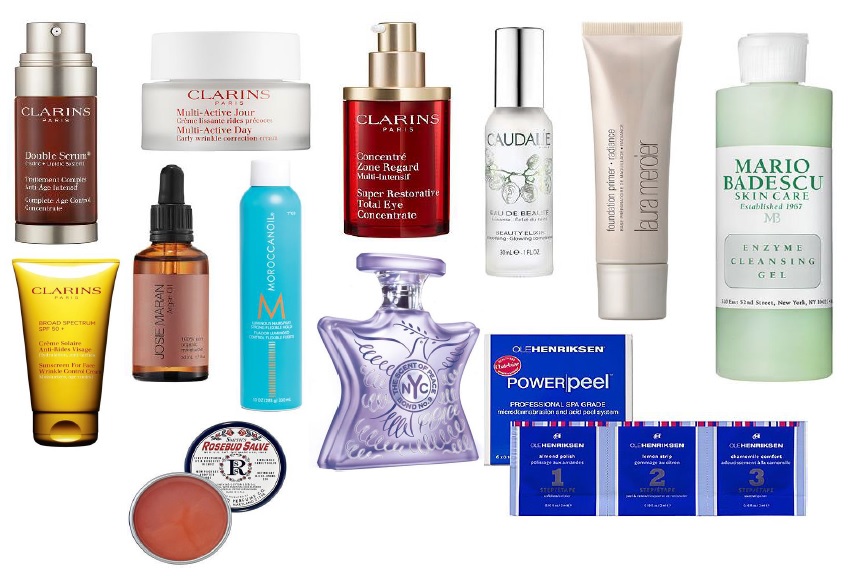 I have recently received a lot of questions about my beauty routine and what products I use so I figured I would give you guys a quick rundown!
For starters, I am a firm believer that you must wash your face before bed. No matter what. You can even ask my friends in college, I never went to bed without taking all of my makeup off and making sure I did my nightly skincare routine (even after a night of going out!) With that said, I have been obsessed with the above products for quite a while… they are all so delicate, lightweight, and work perfectly with my skin.
I start off my morning and evening washing my face with Mario Badescu's Enzyme Cleansing Gel. I love how it smells like cucumber and is very nourishing for my skin. Next up –  my most favorite product, Clarins Double Serum Complete Age Control Concentrate which I use before my Multi Active Jour Day Cream.  I usually do a quick makeup routine for every day (which I will get to in another post next week) but the one product I could not live without is my Laura Mercier Radiance Foundation Primer which I put on after my moisturizer. This primer almost doubles as my bronzer when I don't feel like putting on powder. I never leave the house without a final spray of my Caudalie Beauty Elixir which gives your skin the most perfect dewy look. Last minute spritz of the delicious Bond No. 9 Scent of Peace and some Moroccan Oil Hairspray before I walk out the door! For those of you who have never used Moroccan Oil products — they smell FANTASTIC! I definitely recommend trying it out. I usually also carry some Rosebud Salve in my bag for my lips and cuticles throughout the day. Whenever I am going into the sun I apply Clarin's SPF on my face – it is the only product that I find protects me from breakouts in the sun. I think it is by far the best sunscreen.
When I get home I usually wash my face again with Mario Badescu's Enzyme Cleansing Gel and 1-2 times a week I use a face mask. I have researched a ton and found one that does everything and more. Ole Henriksen's Power Peel is amazing… there are 3 steps to the process and I swear your skin has never felt more rejuvenated and fresh. I particularly love the scent of the almond polish, the burning sensation from the lemon peel and the soothing chamomile comfort. My last products of the night are Josie Maran's 100% Pure Argan Oil which I use liberally all over my face before bed as well as Clarins Super Restorative Total Eye Concentrate.