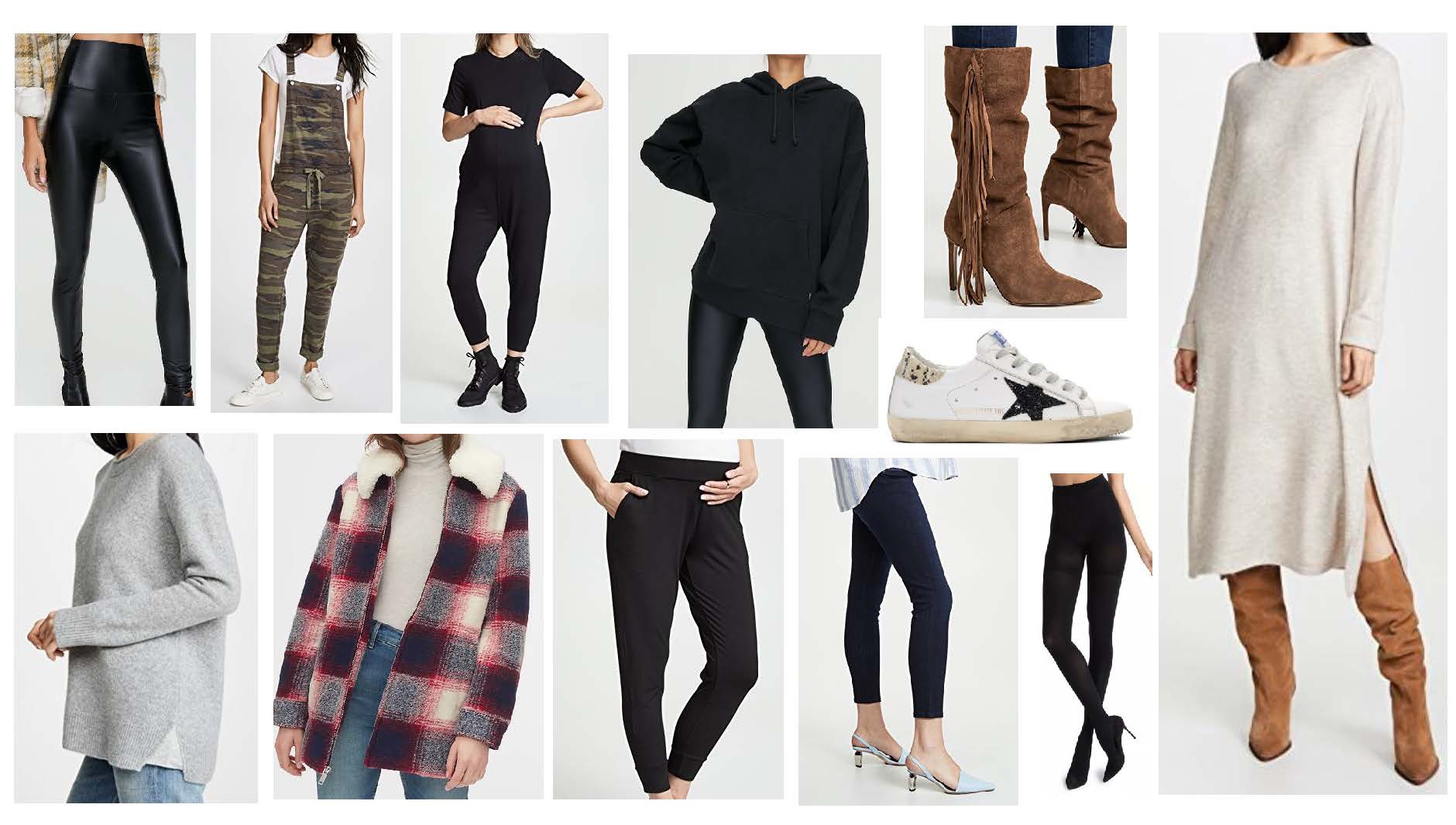 Scroll to Shop!
A very long awaited post but here we go…. my must have's maternity style! I have to tell you guys, it has been extremely difficult to find things to wear everyday (especially to the office) all while staying comfortable yet fashionable. I don't really have a massive bump (just yet) but I'm in that bloat phase where I feel very awkward in all.of.my.clothing! I've found that I have a few staples on rotation, and I just try to dress everything up with a fun piece of outerwear and shoes.
Here are my top 12 favorites (all on sale!) for all you mama to be's!
Casual Jumpsuit – I've been living in this camo Z Supply jumpsuit on weekends with a turtleneck and sneaks. I also love it with combat boots!
Black Jumpsuit x Hatch – Hatch has been my savior the last few weeks ( I find they have the best maternity jeans, well, basically best maternity everything ) and this jumpsuit has been my life. I wear it with loose sweaters layered, cardigans, jackets…. I also can easily wear it POST maternity!
Black Oversized Sweatshirt – My favorite H&M sweatshirt to pair with leggings and sneakers/boots. Love this with a fun leather jacket for day to night.
Fringe Mid Calf Boots – I love to wear a loose calf boot with tights and a sweater dress. This Sam Edelman pair have been taking me out on the weekends to dinners with friends – I love how they look with a midi dress also!
Golden Goose Sneakers – I know everyone says it, but they really are the most comfortable! Their are tons available on sale right now (more to come on that for Black Friday) but I especially love this printed pair to wear with jeans and leggings.
Sweater Dresses – I mean, sweater dresses have been my saving grace. I think I resort to them at least 2-3 times a week, and love pairing them with boots and sneakers. I throw on a fun faux shearling jacket and I instantly feel like myself again. Once the temperature drops I will throw them on with tights!
Oversized Sweaters – Oversized has been my life. I know some girls love showing off their bump (which I am still waiting to pop) so I'm in this bloat phase where I'm not quite comfortable showing anything off. I wear an oversized sweater at least 2 times a week (like this one) with leggings and boots.
Plaid Patterned Coat – Nothing I love more then outerwear, and this Gap Coat has been a repeat for me. I love pairing it with jeans and a navy sweater, over a creme sweater dress, with sweats on the weekend – it is lightweight enough where I'm still warm but not cold. The best part, it is an identical dupe to a VERY expensive Isabel Marant Coat and I couldn't be happier with it.
Joggers – Love a jogger on the weekend. Hatch makes the cutest pair, which I will definitely wear throughout POST pregnancy as well. The price point is high on Hatch but I really think the product can go maternity, or non maternity.
Maternity Jeans – I have a complicated relationship with Maternity Jeans. I am not quite at the stage where I can wear the pair with the over the bump support, so I've been resorting to the side panels that expand. I actually also find I'm still wearing my own jeans (without buttoning them hehe) and I'm using a rubber band to close them up. I have invested in a few Current Elliott x Hatch maternity jeans which I love but I'm eyeing this DL1961 pair since they make such soft jeans.
Spanx Tights – I love these Spanx Tights for all of my sweater dresses. I find I even purchase regular sweaters in a larger size so they double as a dress. I sized up in the tights to make them more comfortable.
My very last essential would be a great pair of Pajamas!!! I love all PJ Salvage and I find the sets with the button up tops are the most comfortable. If you know me, you know I live in my macaron printed pair so I'm planning on scooping up another set with all of the cyber sales this weekend.