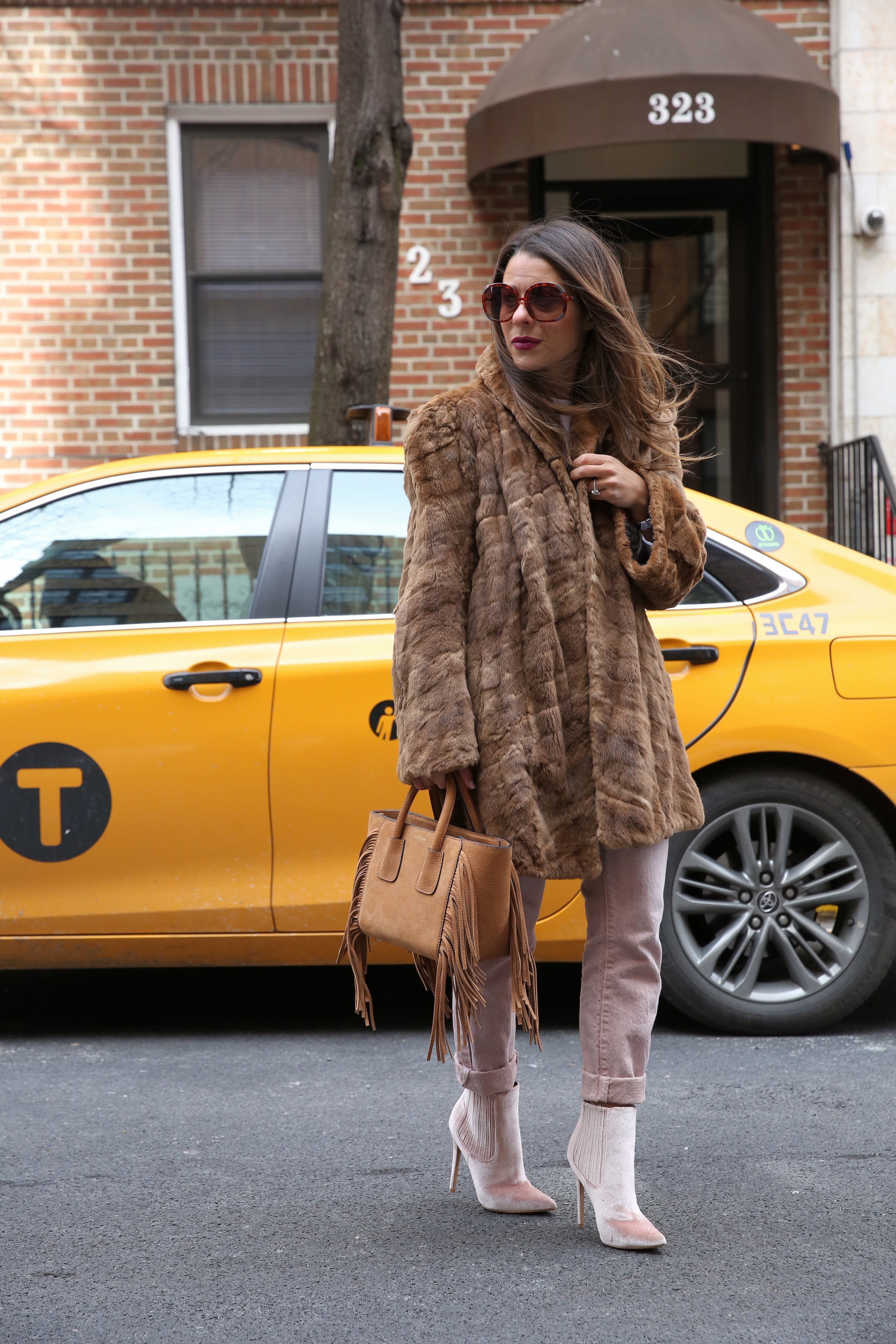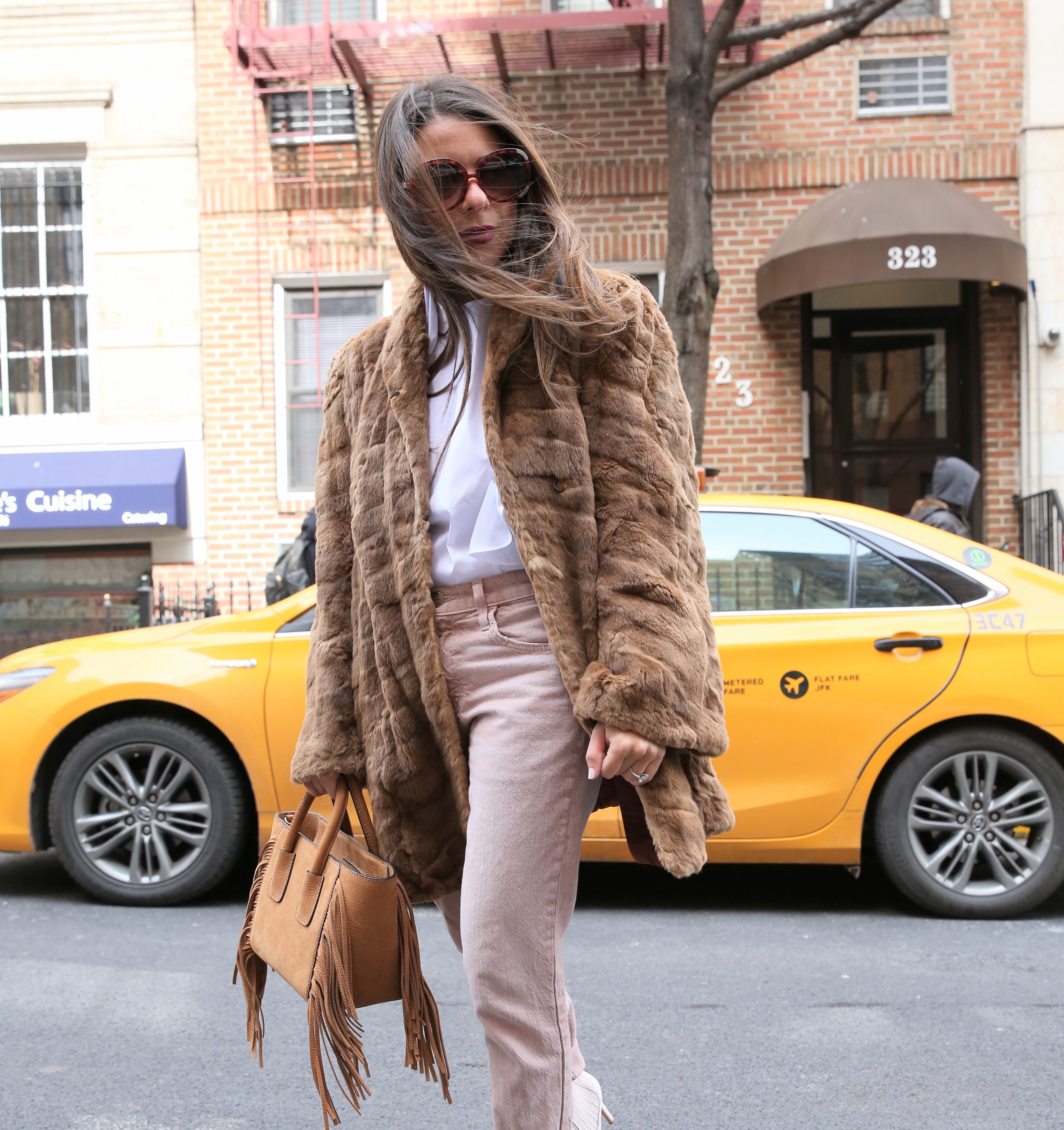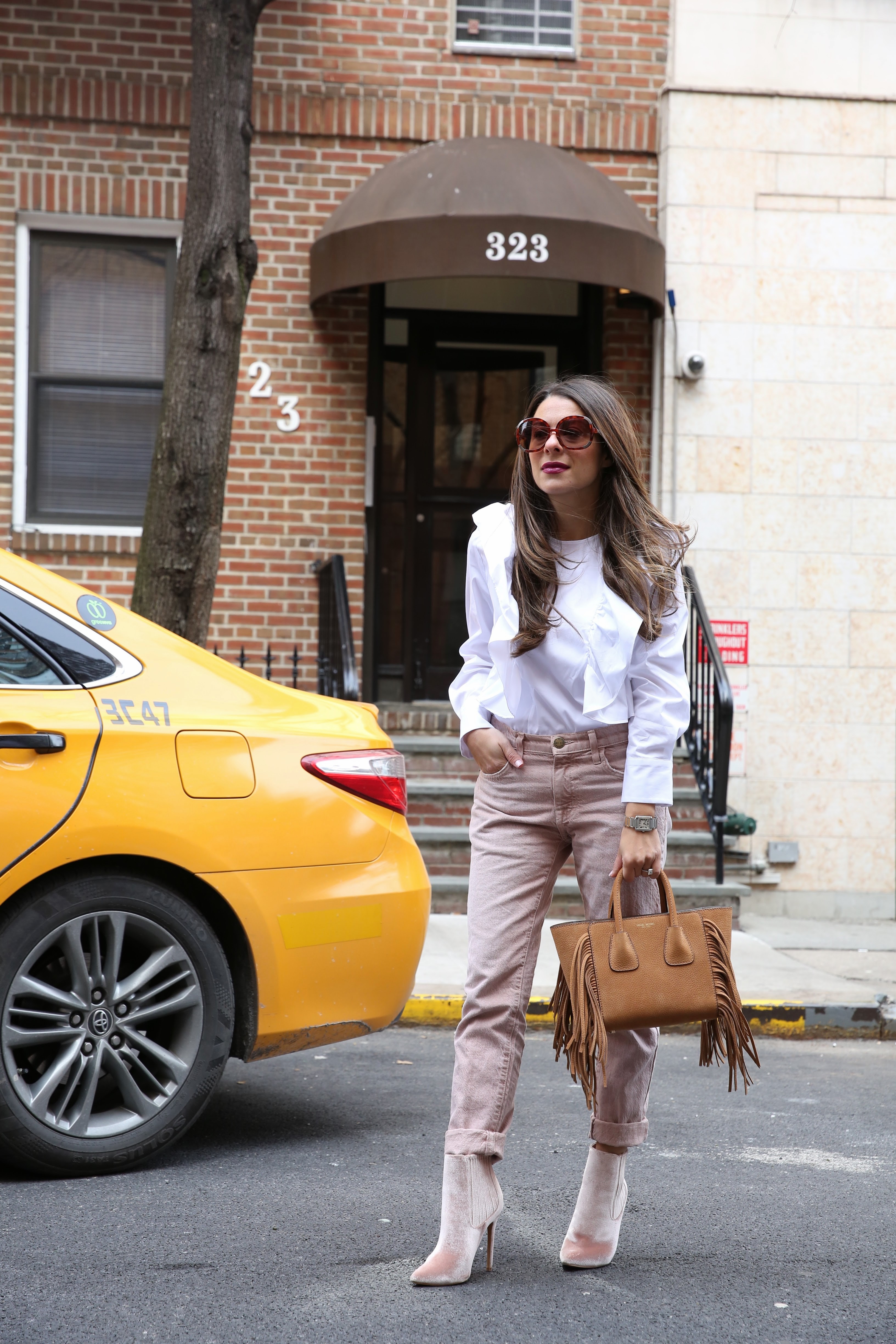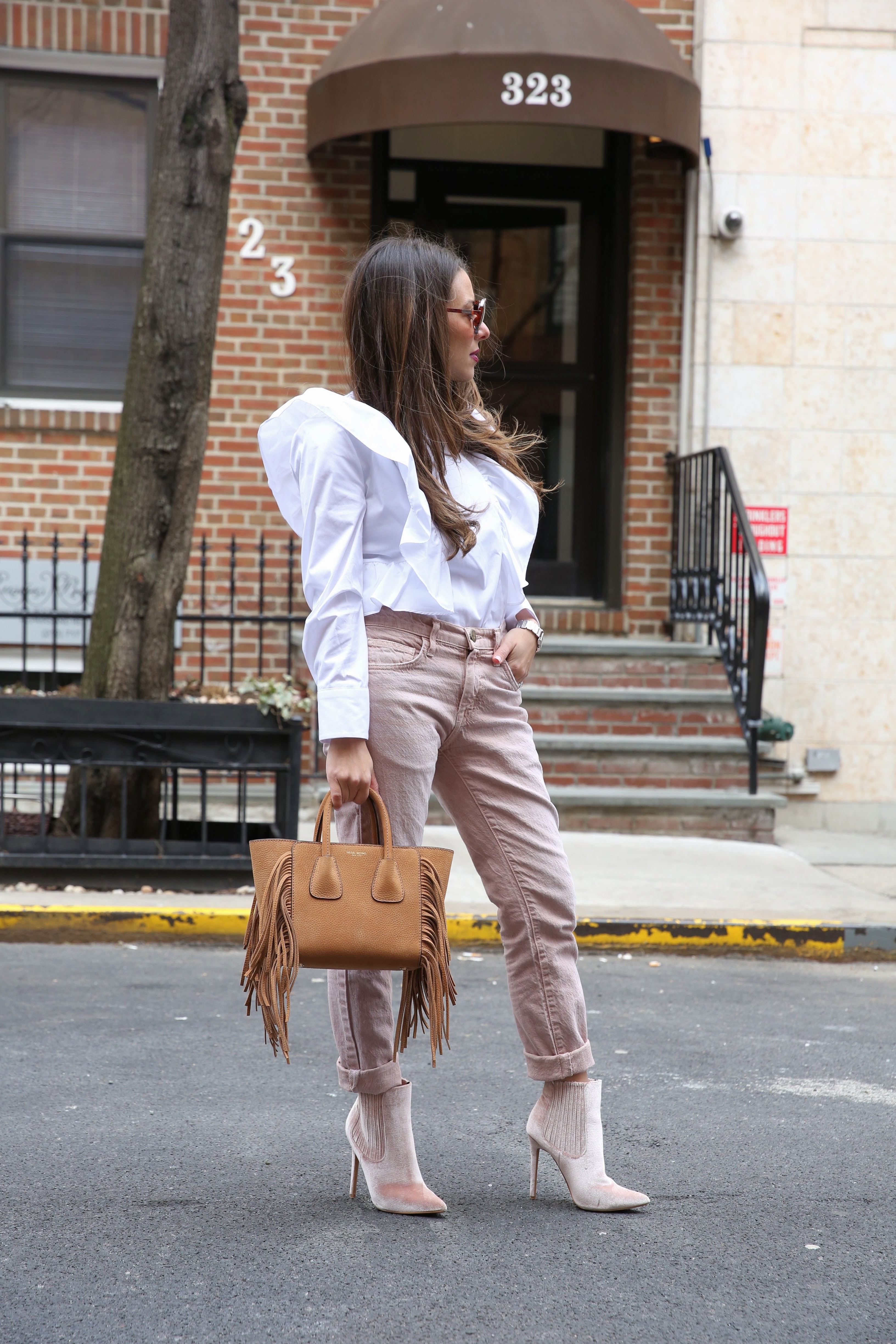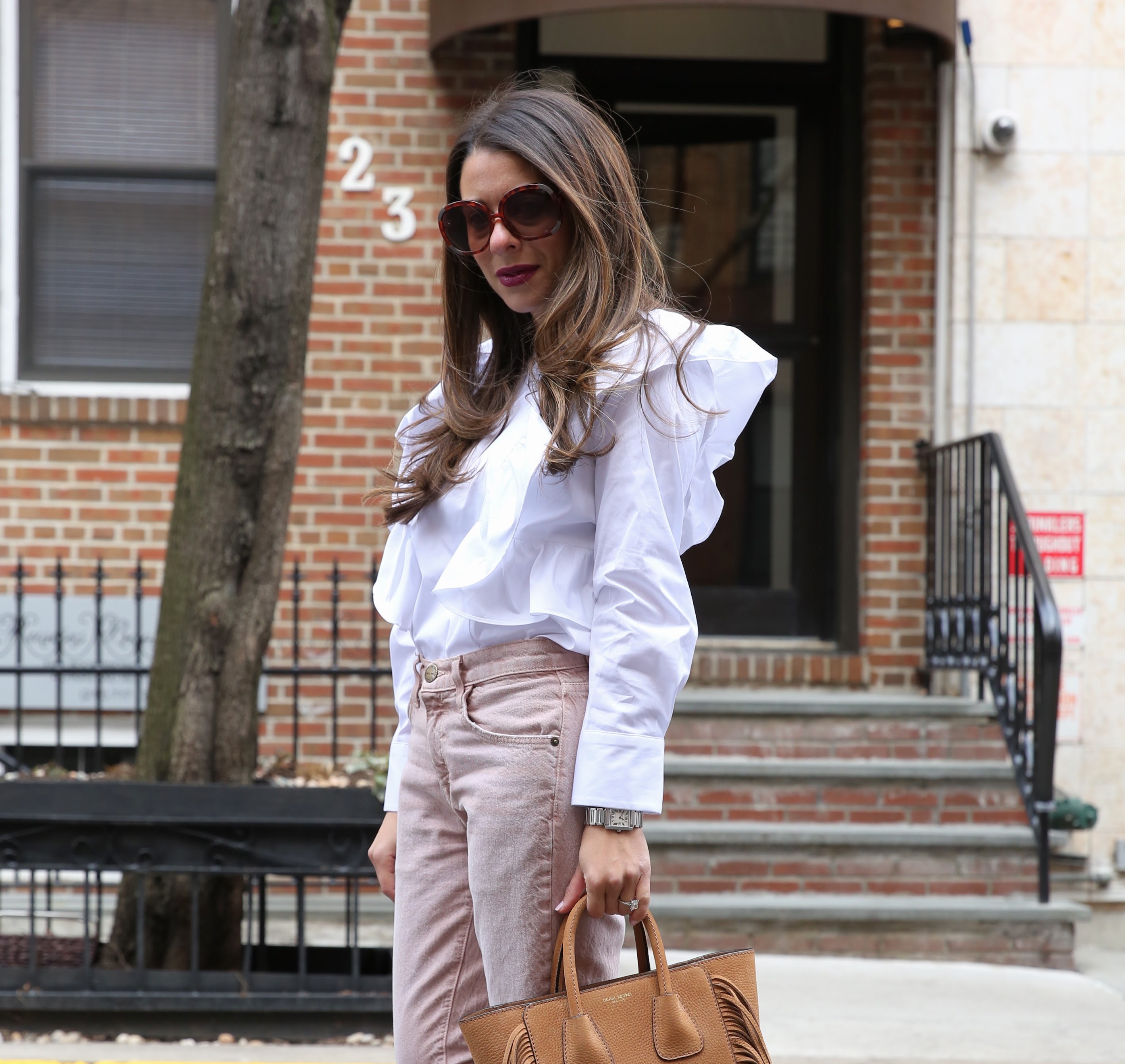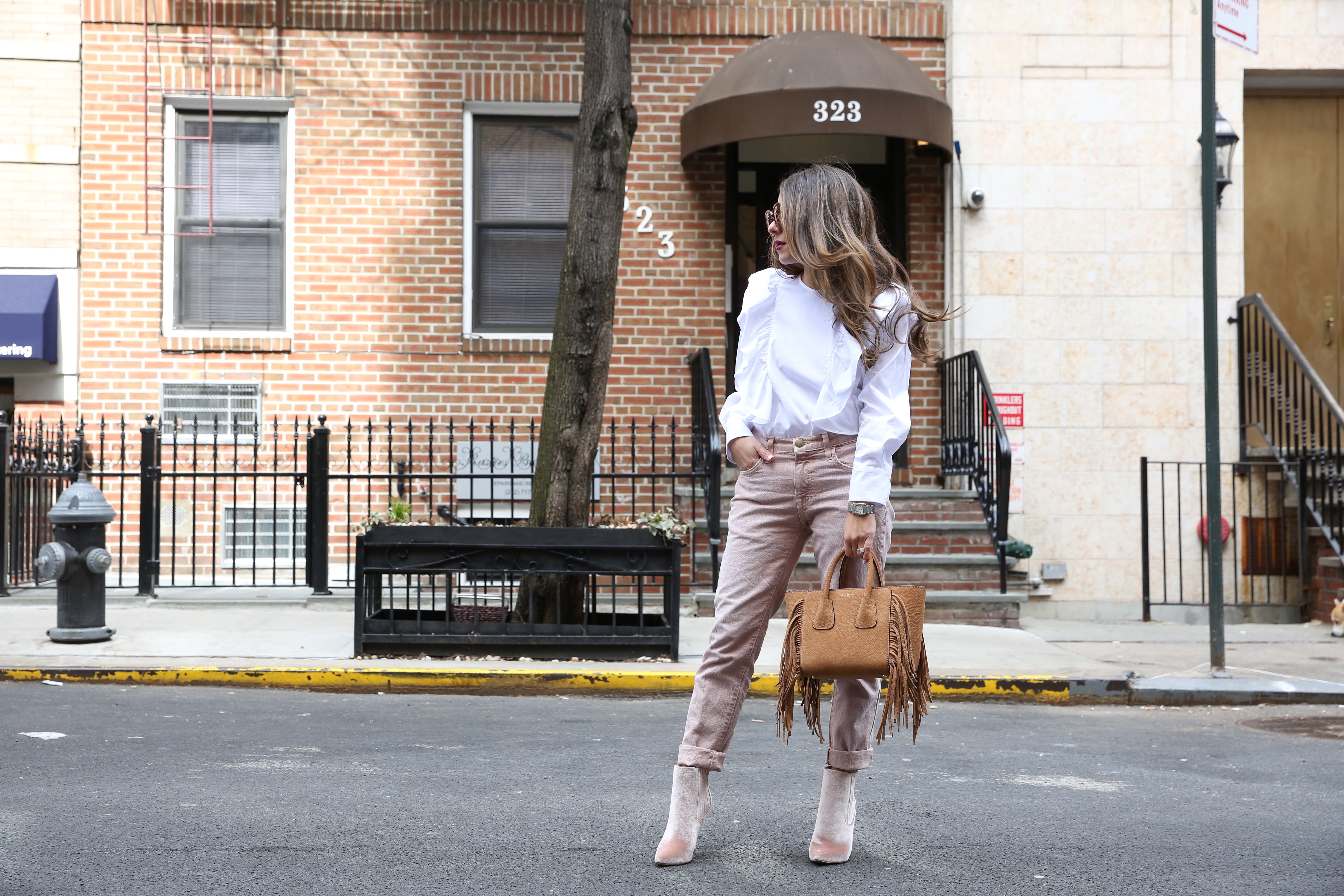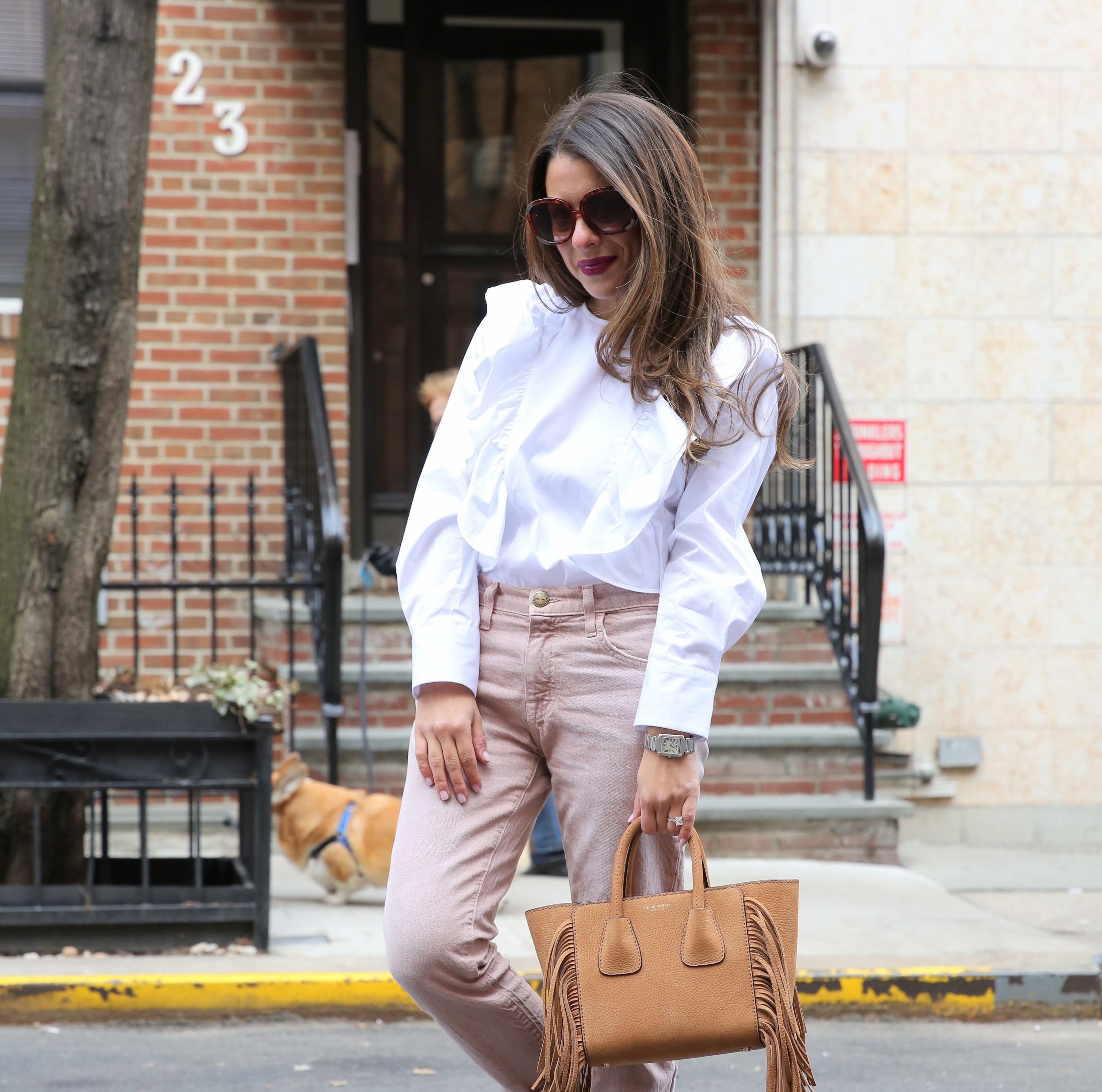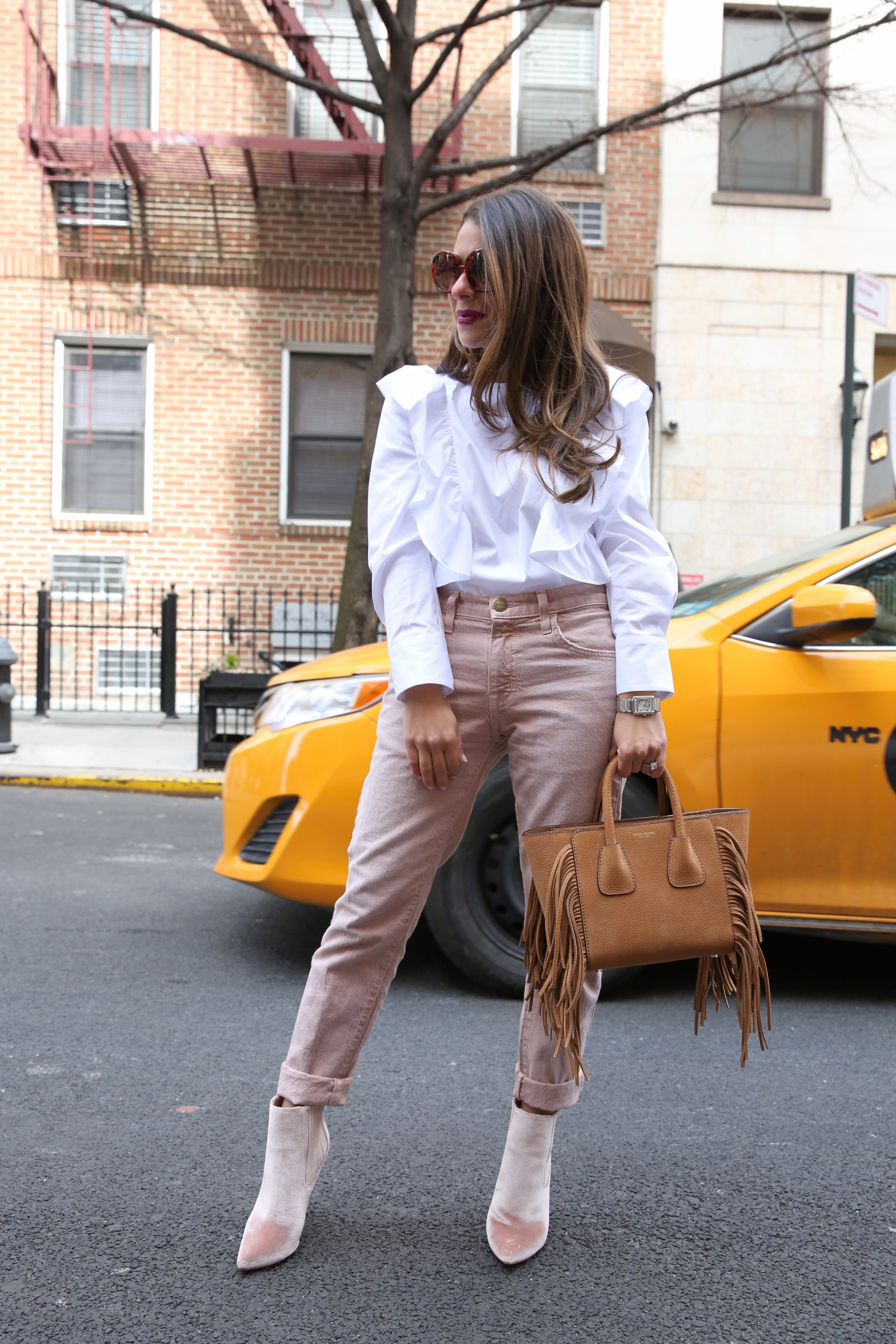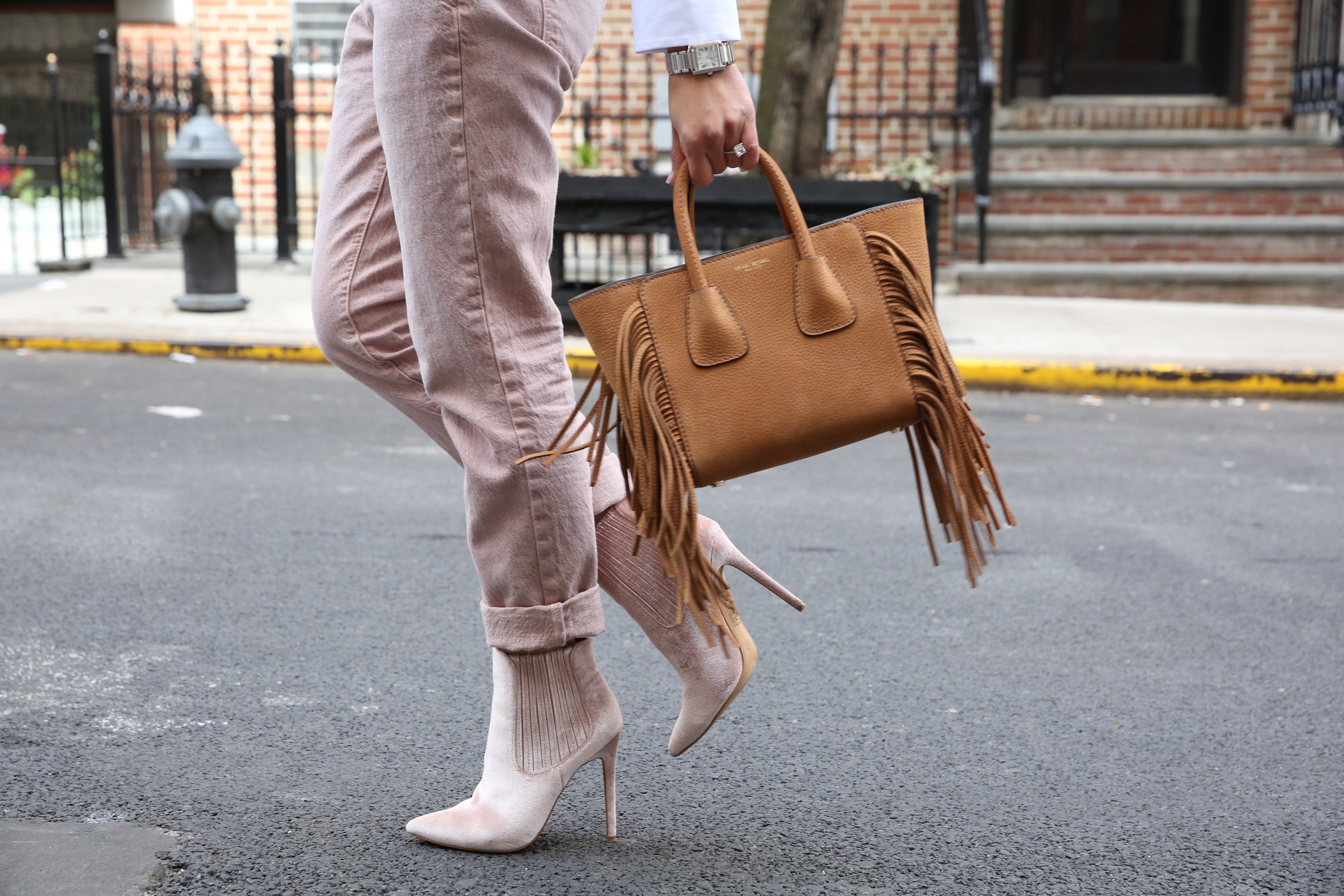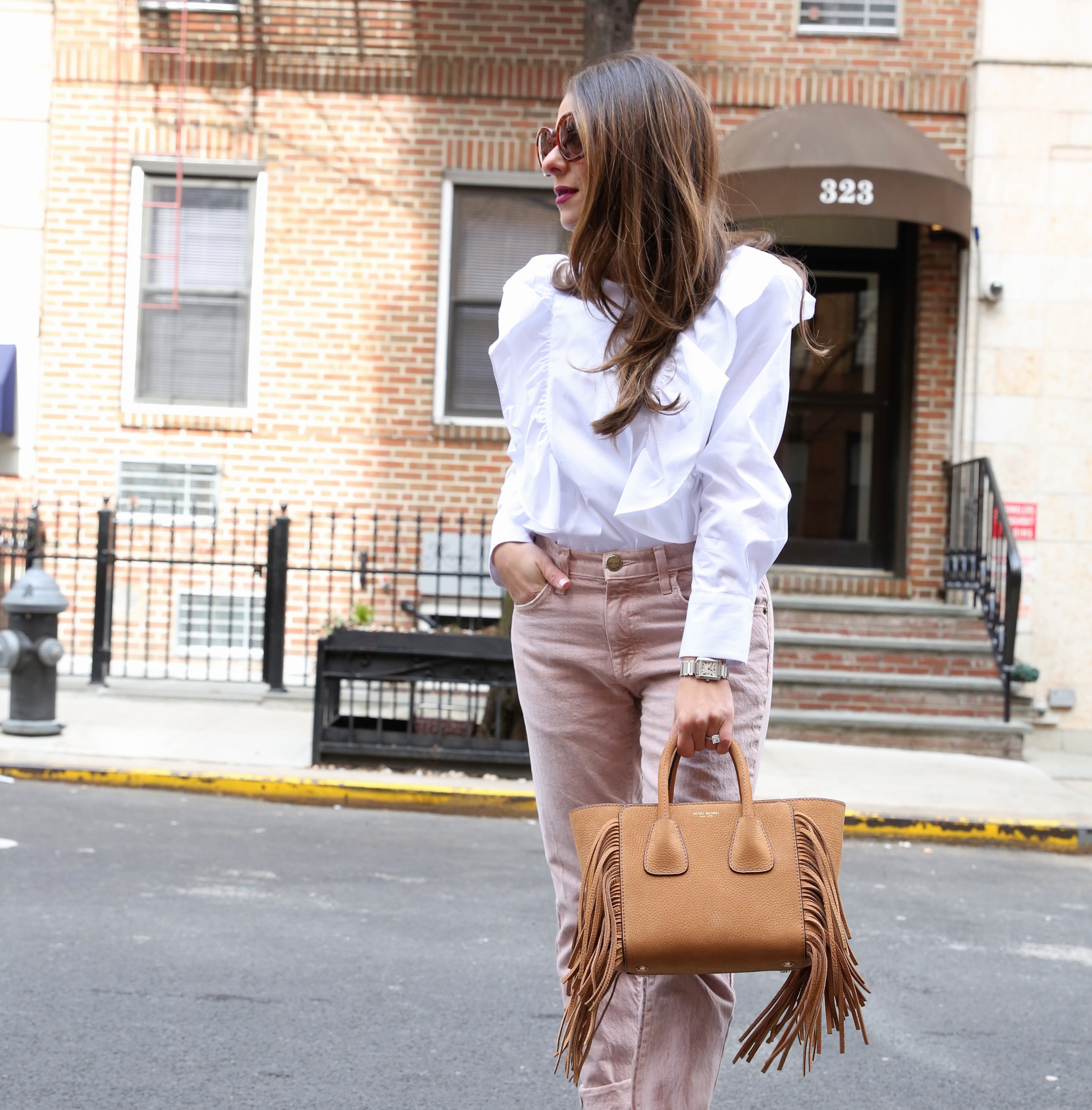 Happy Monday! Spent the weekend getting tons of stuff done for the wedding, cannot believe it is in less than 100 days!
I couldn't resist posting my new favorite Zara cotton poplin ruffle blouse and fringe Henri Bendel bag today. And my pink jeans (yes, I love pink!) Hallie and I shot this when it was BITTER cold so I had to throw on my nana's vintage fur jacket for some warmth before removing it to show the entire look. Cotton poplin is one of those fabrics that every girl must have in her closet – I have so many different variations whether it be stripes, gingham, solid white, ruffled, and more. There are so many cotton poplin pieces I am coveting right now like this one, this one and this one. The best part about this Zara one was not only the under $50 pricepoint but the fabric is amazing. It stretches in all the right places and the ruffle is JUST large enough.
I kept everything really neutral between my pink / mauve jeans, hints of brown & taupe and my white cotton blouse. This is my perfect 'transition' to Spring look since the temperatures are not quite there yet. I'm trying to feel "springy" with my color palette 🙂
Shop my look below! X
Current Elliott Jeans / Zara Top (Similar) (Similar) / Vintage Fur Jacket (Similar) / Velvet Booties / Chloe Sunglasses / Henri Bendel Bag

Photography: Hallie Geller
MONDAY MOTIVATION
The trend of the moment is definitely the guitar strap…. Valentino and Fendi make some of the most gorgeous and intricate embroidered straps for all some of their amazing bags. My only hesitation with this trend, is that it is a trend! For such a high price point, it really makes it difficult to justify spending so much. I've always been a firm believer in splurging on classic pieces and making an investment on something you know will stand the test of time. As much as I do love the designer straps, I know that this trend will probably be short lived and won't be something I will necessarily need next year.
I've received SO many compliments on the straps I've styled on so many of my bags that I had to share some of my favorites for the Spring/Summer as today's Monday motivation – what better way to change up your look than alternating between different embroidered handbag straps.

I've researched TONS of brands and looked everywhere to find some of the coolest designs and embroideries (Shopbop has some great options by Carried NYC and Rebecca Minkoff) and a friend of mine actually ordered a replica of the Fendi strap off Amazon. I'm being TOTALLY honest here – this replica is IDENTICAL and under $50! I've linked some of my favorites of the moment above (and here is a link to the amazing Amazon strap.)